If you're a singer, rapper, producer, or in any day-to-day business that involves using autotune on vocals, you may have heard of MetaTune in the past few months. Among all the autotune plugins available in the market, MetaTune has features that no other plugin has, even the great AutoTune from Antares. Let's see why this could be the next industry standard for autotuning.
MetaTune is an autotune plugin released by Slate Digital almost a year ago, in the summer of 2021. It is way more than a simple autotune. And it might quickly surpass all the autotune plugins on the market.
There are 4 things that make MetaTune a unique auto-tune :
Interface
Uncommon features
Price
Sound quality
1. Interface
Okay… A good interface isn't everyone's priority and it's not really part of what affects the sound result. But the interface of MetaTune is on another level. Look at this plugin, it's modern, colorful, the piano at the bottom is sturdy and well designed, nothing's too extreme or too complicated, and that circle in the middle really gives the impression that you gonna bring your vocals to another universe.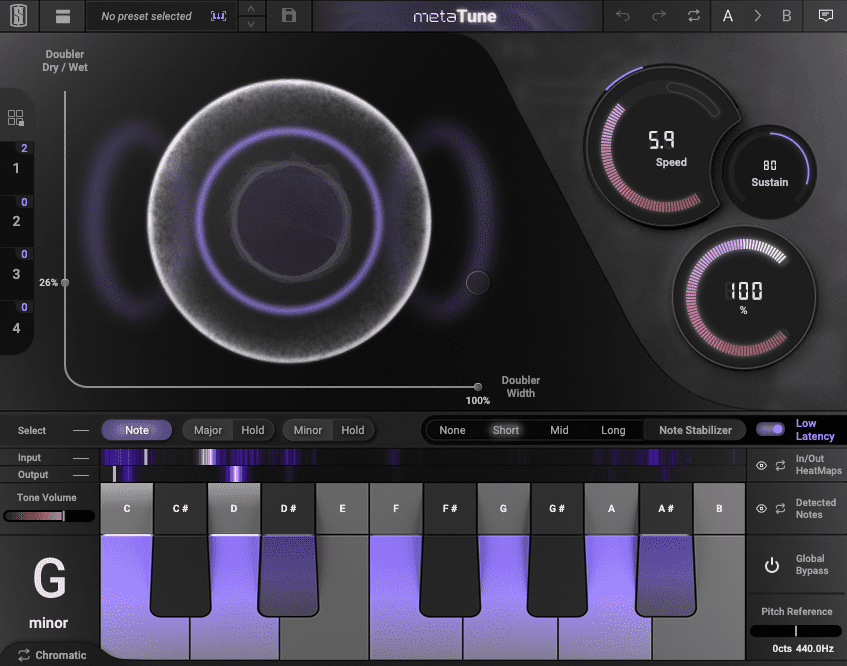 For some people, a good interface can literally boost their workflow. If this is your case, this aspect could be a big advantage for you.
2. Uncommon features
When I said MetaTune was more than an autotune plugin, I wasn't kidding! This plugin has some really special features that might come in handy in some situations. Among these features, the most interesting are :
A. Doubler
Have you ever seen any autotune plugin that had a doubler implemented in the interface ? Now you have! With the lines on the left, you'll be able to adjust the amount of doubler you want to add with your vocals. And below this circle, you can adjust the stereo with (0 is mono, 100 is full stereo).
Is that so useful ? For a lead voice, honestly, not really, unless you want to create a special universe around it. But it can start to be very interesting for ad libs, backing vocals or any vocals that might need some stereo width in your mix. You could obviously use another doubler plugin, but the fact to be able to use one in the same plugin as your autotune is just awesome.
B. Retune speed
It might seem pointless, but MetaTune can increase retune speed up to… -3 milliseconds! A negative retune speed ? Is that possible ? With MetaTune, it is. When you choose negative values (between 0 ms and -3 ms), the plugin will trigger a sort of "lookahead" and will anticipate every note change. I recently tried that negative speed, and the difference with 0ms is extremely subtle. But there's definitely a difference that, in ways I can't quite explain, boosts the sound quality of vocals (that's my opinion!).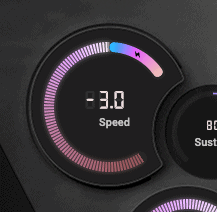 C. Note stabilizer
The last feature that jumped out at me is the Note Stabilizer. This option allows you to stabilize each note before it reaches autotune. This feature works very well and avoid any glitches that often appear when retune speed is close to 0. When you set the note stabilizer to "Long", the voice will sound more natural and human. Choose "Short" if you want to keep a more robotic color sound.
D. Groups
This is probably MetaTune's most useful feature. With this plugin, you'll be able to put several tracks into a group. This will allow you to control multiple tracks using a single MetaTune. As simple as that. Very basic, but very effective.
Need a professional sound engineer specializing in pop and hip-hop mixing ? Great! Take a look at our services and let's blow up your career together!
Let's start now!
3. Price
If you don't have tons of money to spend on plugins, MetaTune is the perfect option : it combines quality with affordability.
On the official Slate Digital website, you can buy MetaTune for just 149$. That's a far cry from the 399$ that Antares charges for its major competitor, Autotune Pro. For the sound quality that each one brings to its users, I made my choice… quickly!
What's really cool about MetaTune is that it is also included in the Slate Digital's All Access Pass : Only 149$ / year, for all their plugins. Just crazy!

4. Sound quality
Judging the sound quality of a plugin is often very subjective. You might deeply love a plugin that your neighbor hates. In this case, I believe that Slate Digital has hit it big, because I literally fell in love with the sound result of MetaTune. I don't really know the technology the great Steven Slate used to build that plugin, but hearing that extremely satisfying sonic result, I'm convinced that this new autotune technology will bring down the greatest in the next few years.
Like… look at how they present their new plugin. Have you ever seen so much confidence in a plugin presentation ? I haven't!
Say goodbye to buggy, expensive automatic tuners. MetaTune is the world's hardest hitting tuner EVER. Get insane robo fx with negative speeds, a gorgeous interface that's easy to use, and cool new features like Grouped instances & a built-in Doubler for wide, thick vocals. From subtle, natural pitch adjustments to in-your-face fx, MetaTune is the automatic tuner you've been waiting for.
Honestly ? They're 100% right.
---
Conclusion
You probably noticed it reading our review : I have become a big fan of MetaTune. It didn't even take a day to make of MetaTune my new go-to autotune plugin. For the reasons I gave you in this article, I truly believe that MetaTune is the new #1 in the autotune market. I made my own opinion, now it's up to you to make yours. Get informed, read and try demos. This is the best way to choose plugins adapted to our needs!
If you have any questions about MetaTune or about anything in the field of vocal mixing, please contact me, I'm always very happy to help!
---
My favorite tools for mixing pop and hip-hop music:
Plugins
In the field of auto-tune, I'm convinced that nothing's better and more efficient than Antares Auto-Tune Pro. As for the EQ's, FabFilter Pro-Q3 and Slate Digital Infinity EQ are, in my opinion, the best tools. For compression, I have 2 favorites plugins: Waves RComp and UAD EL8 Distressor.
As for reverb, I'm a big fan of the Soundtoys Little Plate, but generally, I go for the Valhalla VintageVerb for its versatility. I also love the Arturia Rev PLATE-140 and the UAD Pure Plate for its organic side.
Headphones
The closed headphones I love and will always love using for mixing pop and hip-hop music are the Beyerdynamic DT-770. As for the best open-back headphones, I use the Sennheiser HD600 headphones, and I'm really happy of them!
Monitors
Having a pair of Yamaha HS7 in its studio or home studio is always cool for more excitement while listening to your mixes. The Adam Audio T7V monitors are also super accurate. In my studio, I also have a pair of Genelec 8030 for their reliability.
Hardware gear
For anyone who wants to start using hardware in their mixes, I always recommend these 2 units from Klark Teknik: the EQP-KT and the 76-KT. Don't forget to use good converters, such as the Apollo interfaces. This is essential for a good rendering.