Finding good plugins for vocals at an affordable price is not an easy task. This is why, in this article, I'm going to give you a list of the 10 best plugins for vocals under $50. And don't be fooled by the price! Because this list contains only very high quality plugins that easily compete with the more expensive plugins on the market. Most of them are plugins that I use in my own mixing sessions. So you can trust all these plugins.
Affordable plugins doesn't mean bad plugins
Before we dive any further into this article, I'd like to first talk about the price. Because this is partly the subject of this article.
Nowadays, in the music production field, many people think that affordable plugins mean bad plugins. Honestly, this is completely wrong. You have to know that the selling price of the plugin does not depend directly on its quality.
The price of a plugin will first depend on the sales policy of its manufacturer. At Waves, for example, their sales policy is based on almost "cheap" prices, which in fact hides a paid upgrade plan, which can quickly go up in price…
It also depends on the target community. At Universal Audio, for example, the price of plugins is particularly high, because they are intended to be sold to professional sound engineers… who potentially have a big budget for plugins!
And finally, the price of plugins can also depend on whether or not the interface and features are simple. This makes sense. Plugins like FabFilter's Pro-Q 3, for example, have hundreds of features. These many features will give the user an infinite number of possibilities for vocal mixing, which inevitably costs more. As you can see, the opposite is true for more simplistic plugins. But that doesn't make these plugins bad tools.
You also need to ask yourself what your skills and needs are in terms of plugins in general. In another article, I asked myself the question: Do You Need To Buy Plugins To Mix Music Professionally? The answer should interest you!
The plugins you will meet in this article
You will find many different plugins in this article: EQs, compressors, reverbs, delays,… Everything! My goal with this article is to give you all the tools you need to mix vocals like a pro without spending a lot of money on plugins.
This list of plugins can also help you build your vocal chain with reliable plugins. Because I know how complicated it can be to build an efficient vocal chain when you don't know which tools are suitable.
Through this article, I also want to prove to you that a professional mix is not always obtained with expensive plugins and tools. Sometimes the most simplistic plugins are even more efficient than the more expensive ones.
ℹ️ Do you mix rap vocals? Do you have a higher budget than $50? Then this article is for you: Top 9 Plugins For Mixing Rap Vocals
Selection Criteria
Before making a top of plugins, it is essential to know the selection criteria. So here is everything that will be taken into account in this list of plugins for vocals:
1. Value For Money
As this article is directly related to money, it goes without saying that the value for money is the first criterion to take into account. Why is that? Because the final goal of this article is to give you all the plugins that, according to their value, will bring the best quality to your vocal mixes.
2. Sound quality
The audio quality of the plugins is obviously also an important criterion. But talking about "sound quality" in itself makes very little sense. What we will do in this article is to talk about the advantages and disadvantages of the sound quality of each plugin.
3. Ease of use
In today's music production, intuitive and easy-to-use tools are increasingly popular with producers and sound engineers. Even in the pro field. So ease of use is also a consideration.
4. Features
But as already mentioned above, the difficulty for all manufacturers is to combine intuitiveness and features. Because an audio plugin with a lot of features can quickly impair its usability and intuitiveness. However, the quality and number of features can enhance productivity and efficiency quite drastically. We will see which plugins are the best in this respect!
5. Presets
Presets are not just for amateurs! They allow you to quickly get a solid base to get the sound you want. Plugins with quality presets often make the difference with others. Because they allow you to get closer to a pro mix quality more efficiently.
---
Here's the list of the 10 best plugins for vocals under $50:
Waves CLA-76
iZotope Neutron 4 Elements
Denise God Mode
Waves Tune Real Time
iZotope Neoverb
Slate Digital Fresh Air (free)
Waves Vitamin
Native Instruments Raum
Antares Autotune Access
Valhalla FreqEcho (free)
The order of these plugins is of very little importance in this article. Although the first half of this list is probably more interesting in terms of audio quality than the second half.
The most important thing during your reading is to analyze if the features of the plugins match your current needs. If so, go for it! You won't regret it.
But above all, never buy plugins just because they look stylish or because you've heard a lot of good things about them. That's the best way to spend your money unnecessarily. Enjoy your reading!
1. Waves CLA-76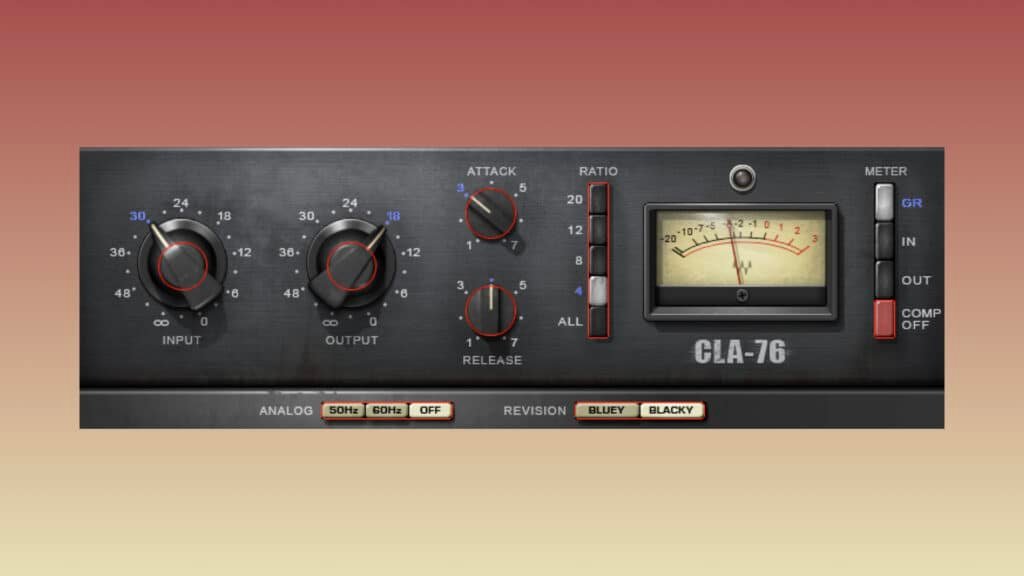 Overview
CLA-76 (V14) is a compression plugin compatible with macOS Catalina 10.15, Big Sur 11, Monterey 12, Ventura 13 and Windows 10 (64 bit) or higher. It is supplied in AAX, VST2, VST3 and AU formats.
The CLA-76 is a Waves compressor that emulates Universal Audio's 1176 hardware compressor, one of the best-known FET compressors in the music field. It is available in Bluey and Blackey versions, thanks to a switch at the bottom of the plugin.
Review
It's no coincidence that the CLA-76 tops this list. This emulation of the legendary 1176 compressor is one of the best on the audio market.
It's not the most "reliable" emulation, but it's the one that most brings out the power, character and grit so beloved of FET compressors. It works perfectly with vocals.
Use in vocal mixing
By aiming for a gain reduction of 3 to 5dB, your vocals will take on a whole new dimension in your mix. They'll blend in more easily, while taking on a warmer, more aggressive color.
Waves' compressor makes vocal transients punchier and snappier, while giving you total control over them.
CLA-76 is a plugin that helps vocals cut through the mix. All in all, it brings out a very "pro" touch in your vocals, especially rap vocals.
Pros & Cons
✅ PROS ✅
✅ Adds a very special tone and character to vocals
✅ Makes vocals cut though the mix
✅ Easy to use
✅ Super fast attack time that keeps full control over the dynamics
❌ CONS ❌
❌ None
2. iZotope Neutron 4 Elements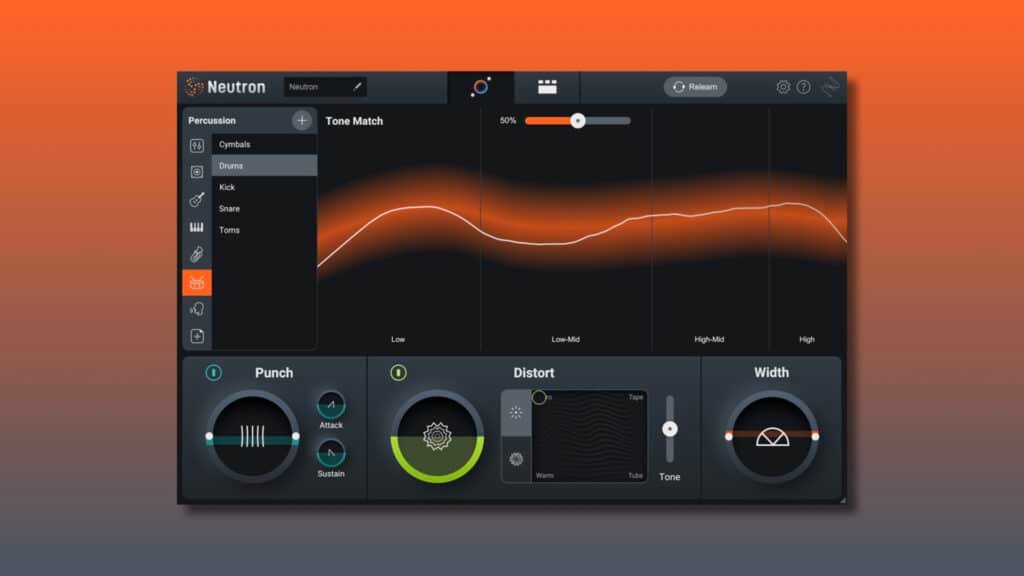 Overview
Neutron 4 is compatible with MacOS Catalina (10.15.7 or higher) and Windows 10 or higher. This plugin comes in AAX, AU and VST3 (64-bit only).
iZotope Neutron 4 is a multi-task (channel strip) plugin that contains several mixing modules placed in series: a compressor, an EQ (full parametric), a sculptor (to shape the dynamics), an exciter (harmonic enhancer), a noise gate, a transient shaper and a brand new unmask module. Yes, that's a lot of tools.
Need a professional sound engineer specializing in pop and hip-hop mixing ? Great! Take a look at our services and let's blow up your career together!
Let's start now!
Review
Neutron is an iZotope plugin that has always been at the top of technology and offers its users features that literally… surpass human capabilities! And with Neutron 4, the step forward is huge.
What makes Neutron 4 a tool that crushes the competition in its field is iZotope's brand new feature: Assistant View. This new window (which can be considered as an AI), allows you to imitate the tone of the processed source with an external source.
Compression, equalization, harmonic enhancement,… in one click, and only a few seconds of processing, iZotope will shape your source with the chosen audio file with stunning accuracy. And that, without you touching any parameter! A real technological rocket!
In addition to this assistant, you can use this plugin to build and sculpt your sound with complete, precise and high quality audio tools. You have everything at your disposal to achieve a clean and powerful sound efficiently.
Use in vocal mixing
If you want to use Neutron on vocals, I have two tips for you. First of all, try different things over and over again. The amount of features available on Neutron 4 is impressive, and even the "Element" version can give you a lot of great tools. The only way to learn how to use them properly is to try them!
And secondly I advise you to use this plugin at the beginning of your vocal chain, to enjoy clean vocals right from the beginning of the processing. You have access to a lot of tools, take advantage of them!
Pros & Cons
✅ PROS ✅
✅ A real technological beast
✅ Assistant view and tone matching for more creativity and ease of use in vocal mixing
✅ Accurate, intelligent tools
✅ Super nice interface
✅ Value for money: Incredible! (Note: the offer of $32.50 may be limited in time)
❌ CONS ❌
❌ Can be very complicated to handle and understand
3. Denise God Mode
Overview
God Mode is compatible on MacOS X 10.7 (or newer) and on Windows 7 (and higher). It comes in AAX, AU, VST and VST3 formats.
Denise God Mode is an advanced saturation plugin that lets you precisely control which frequency band is more or less saturated by the plugin.
To do this, God Mode uses push-pull technology (popularized by the legendary Pultec EQ) to produce unique tones. The instinctive interface, which loos like a full parametric EQ, helps you work with great precision.
Review
This saturation plugin is not the most popular one on this list. Yet God Mode is probably one of the only saturation plugins capable of controlling saturation on every frequency band with such precision.
It's its push-pull technology in particular that makes it possible to work with such precision. In fact, once you've decided on which frequency bands you want to emphasize saturation, you can use the "pull" parameter to re-control that saturation. Ideal for finding the sweet spot every time!
You can also combine different types of saturation to give a unique character to your processed source. For example, you can combine the warmth of tape saturation with the aggressiveness of warp to create an inimitable coloration.
With God Mode, you also have access to a high-pass and low-pass filter at the plugin's input and output. What better way to keep maximum control over saturation?
Use in vocal mixing
In vocal mixing, the "tape" mode is often the best suited to give a rather unique warmth. But the best results are obtained by combining this mode with the two more "aggressive" saturation modes, Buzz and Warp.
Once you've found your desired saturation tone, you can then adjust the ratio between direct and saturated sound, which is usually between 5 and 10%.
By using it subtly, with a good balance between saturated and direct sound, God Mode will give your vocals a boost of power, punch and aggressiveness. Believe me, it's a unique tool.
Pros & Cons
✅ PROS ✅
✅ Unique way of saturating your sound
✅ Push-pull technology for more precision
✅ Can combine several types of saturation
✅ Advanced parameters and features
✅ Very low CPU usage
❌ CONS ❌
❌ Can be complicated to handle
4. Waves Tune Real Time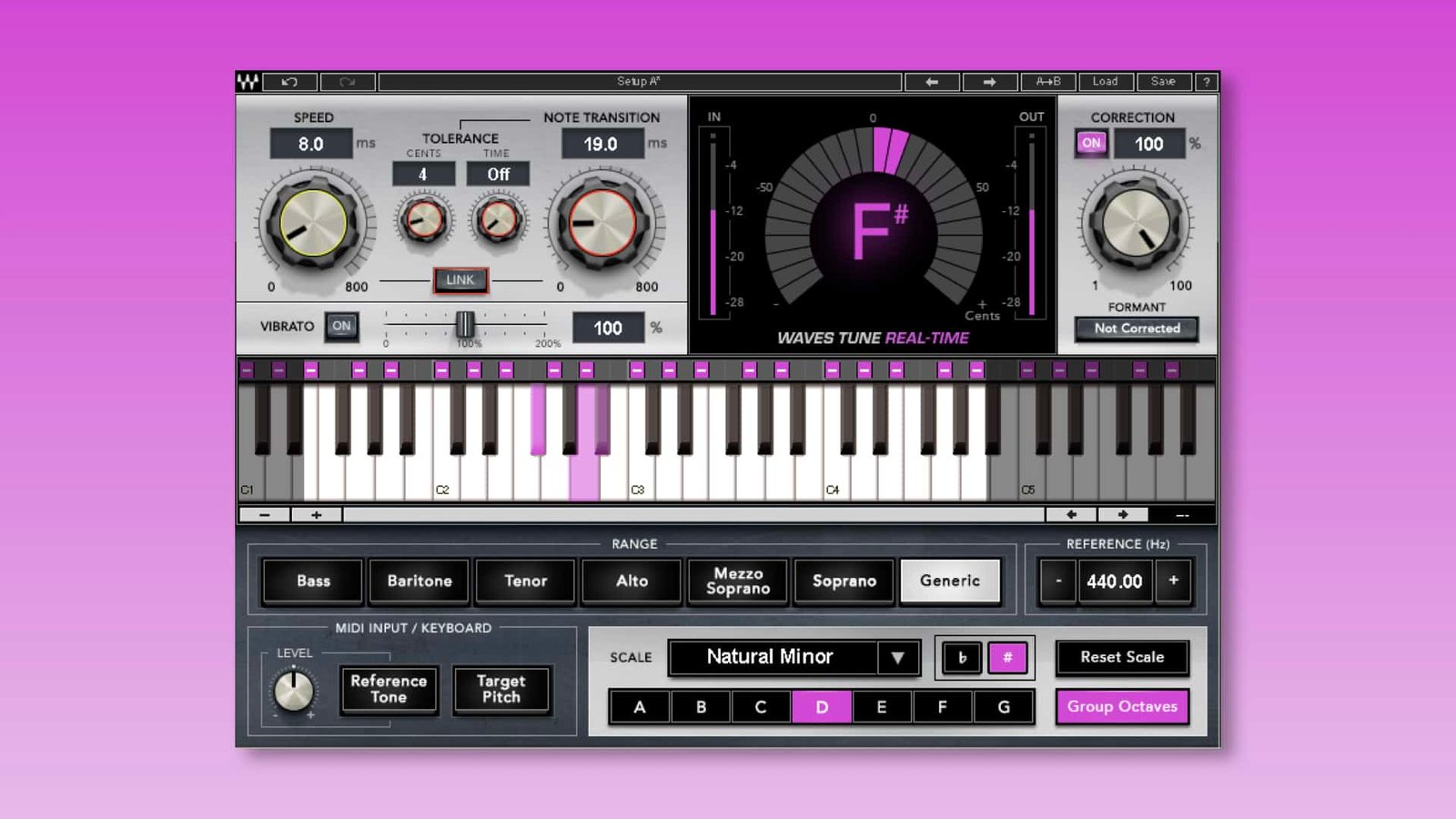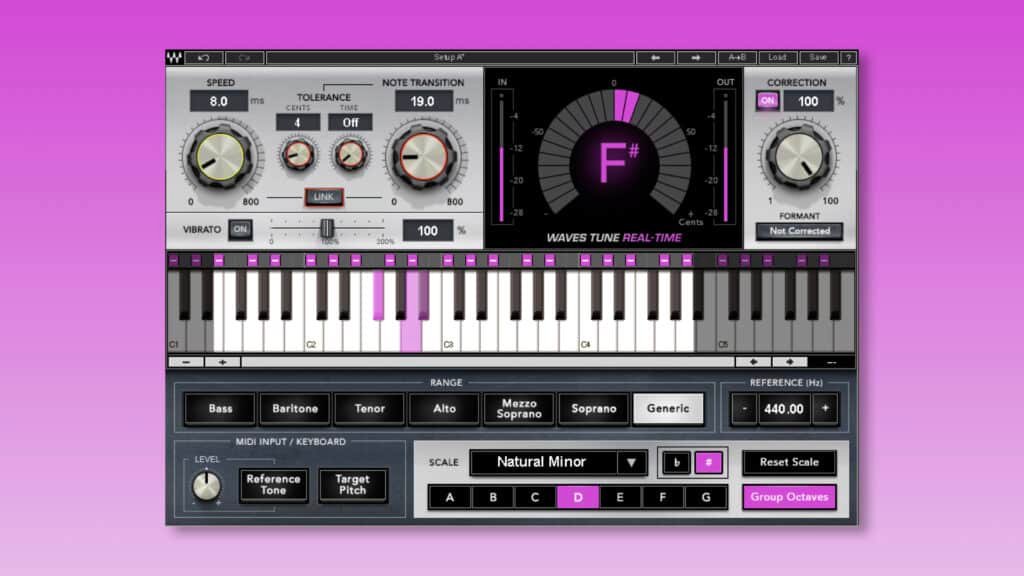 Overview
Waves Tune Real-Time (V14) is compatible with MacOs 10.15 and above and with Windows 10 (64bit) and 11. It comes in AAX, AU, VST2 and VST3 formats.
Waves Tune Real-Time is an automatic realtime tuning (auto-tune) plugin that can be used with both vocals and monophonic sources.
It features 2 main knobs (speed and note transition) that allow you to go from the most robotic to the most natural tunings.
Review
Despite its low price, Waves Tune is probably one of the best auto-tune plugins on the market today. The resulting audio quality can clearly compete with classics such as Auto-Tune Pro.
ℹ️ Need to take a look at the best auto-tune plugins for vocals? Then I recommend you this article on The 9 Best Auto-Tune Plugins For Vocals (Any Budget)
Its interface allows you to tune any type of source with impressive ease. And its numerous parameters will enable you to work with great precision and get the exact tuning tone you want.
The great quality of Waves Tune is its ability to perform precise tuning while sounding very natural and subtle. Few auto-tune plug-ins can do this properly today.
It also has the advantage of not deteriorating the frequency spectrum of vocals and of not creating artifacts. Even with more extreme parameter adjustments.
It's probably one of the most cost-effective auto-tune tools available today.
Use in vocal mixing
Choose your key, the range of your vocals, then adjust the speed and transition knobs to get the sound you want. You can then fine-tune your processing with the tolerance parameters but also with the correction knob.
You can also decide whether or not to retain the formant of the vocals. Very useful! You'll see that it is a super instinctive tool to use!
Pros & Cons
✅ PROS ✅
✅ Great audio quality
✅ Super instinctive
✅ Versatile
✅ Natural rendering
❌ CONS ❌
❌ No graph mode for manual tuning
5. iZotope Neoverb
Overview
iZotope Neoverb is compatible with MacOS 10.13.6 (and higher) and Windows 8 and higher. It comes in AU, AAX, VST2 and VST3 formats.
Neoverb is an intelligent reverb plugin that uses advanced technology to create unique atmospheres. It features intelligence that helps the user find the ideal reverb tone. It also features a pad that lets you blend several reverbs together.
Review
Neoverb is a magical tool for vocal mixing. Because it has everything you need to get the color and tone of reverb you want to add to your vocals.
First of all, its artificial intelligence will suggest very specific presets according to your needs and what you want to get from your reverb. In just 2-3 clicks, you can already have a very good starting point.
Next, you have the option of blending several types of reverb using the window in the middle of the interface. Want to blend a short room with a long hall and a denser flat? There's no limit to how far you can go with Neoverb!
And then there's this smart EQ that prevents you from masking your direct signal with your reverb in a single click. And honestly, it works super great!
Neoverb fits easily into the list of The 9 Best Reverb Plugins For Vocals In 2023 (Any Budget)
Use in vocal mixing
With Neoverb, I really advise you to use the presets at your disposal to create the reverb you need. These presets are numerous and of impressive quality.
Then, don't hesitate: move your cursor in the pad. Neoverb sometimes gives you a nice surprise by trying out different things in the pad.
If you need to process your reverb more precisely, you can also use the advanced panel, which opens with the arrow on the left.
In vocal mixing, the "unmask" tool can also be very effective in avoiding adding more muddiness or imprecision to your mix.
This tool is an open door to creativity, so play with it!
Pros & Cons
✅ PROS ✅
✅ Very complete reverb
✅ Advanced technology
✅ Possibility to blend 3 reverbs at the same time
✅ Intelligent EQ for avoiding masking
❌ CONS ❌
❌ Not very intuitive
6. Slate Digital Fresh Air (free)
Overview
Slate Digital Fresh Air is compatible with MacOS 10.15 or higher (10.11 recommended) and with Windows 10 and 11. This plugin comes in AU, VST2, VST3 and AAX 64bit formats.
Fresh Air is a high-frequency processor that enables accurate boosting of the upper spectrum of any audio source.
It features two main knobs, one for high frequencies and the other for air frequencies. It also has a small trim knob for readjusting output gain.
Review
You might find it weird to include a plugin that only handles high frequencies in this list. Because… any EQ could do the same, right? Well, not really!
Fresh Air is capable of bringing brightness and clarity to your mixes in a totally unique way. Thanks to its algorithm based on vintage exciter circuits and modern dynamic processing technology, the plugin will literally bring your mixes back to life.
And its big advantage is that it won't bring out any harshness in your speakers after processing. A mix that breathes, that's what Fresh Air is all about.
Whether you use it on vocals, your mixbus or any other source, Fresh Air will blow you away!
Use in vocal mixing
The reason Fresh Air works so well in vocal mixes is that, in music, the voice is often an element of the mix that needs that touch of sharpness to stand out.
Whatever the voice, you'll love Fresh Air! My advice is to focus on the high air knob first. Then, focus on the mid air knob. This way, you'll avoid over-aggressiveness and get the most out of Fresh Air's unique brilliance.
Above all, trust your ears. If you need a boost of, say, 4, don't go any higher. But on the other hand, if you need 60 or 70, then go for those values too!
Trust me, boosting each knob with your eyes closed is the best way to get quality results with Fresh Air.
Pros & Cons
✅ PROS ✅
✅ Super easy to use
✅ Unique way of processing high-end
✅ Adds brightness without bringing out harshness
✅Nice and intuitive interface
❌ CONS ❌
❌ Lack of advanced features
7. Waves Vitamin
Overview
Waves Vitamin (V14) is compatible with macOS Catalina 10.15, Big Sur 11, Monterey 12, Ventura 13 and Windows 10 (64 bit) or higher. It is supplied in AAX, VST2, VST3 and AU formats.
This very special plugin is sold by Waves as a sonic enhancer. In other words, it's a multiband harmonic enhancer that makes the processed source more powerful, robust and harmonically rich.
Waves Vitamin is based on a principle of 5 sliders, each assigned to a frequency band. This blend of multiband EQ, compression and soft saturation produces unique, rich results.
Review
Behind Vitamin's particular, aged interface lies a high-quality plugin that can add incredible power to your mixes.
Vitamin is not a simple 5-band EQ, nor a multi-band compressor. It's much more than that! Waves Vitamin produces saturation, giving way to rich tones and colors.
It's probably the only plugin on the market that lets the user manage the harmonic richness of each frequency band with such precision.
Thanks to Vitamin, you can also use the punch parameter to make your sounds punchier, with more emphasis on transients. A must-have tool to make your mixes more exciting.
Use in vocal mixing
For vocal mixing, Vitamin is an inimitable plugin. It does two things very well.
Firstly, it can give your vocals a lot of presence, making them cut through the mix quite easily and effectively. By boosting the middle pull knob dedicated to midrange frequencies, you can put your vocals back where they belong: at the center of your mix.
Then you can take advantage of the air fader to open up your vocals within the mix in an impressive way. As the plugin is based on harmonic generation, boosting high frequencies is like enhancing and enriching frequencies at the very edge of audibility for the human ear. This gives an incredible grain to the high end of vocals.
ℹ️ Want to learn more about Vitamin? Everything you need to know is there: Vitamin | Waves : A Key Plugin To Mixing Hip-Hop Vocals
Pros & Cons
✅ PROS ✅
✅ Unique harmonic enhancer
✅ Bring out power and richness to the vocals
✅ Variable crossover frequencies for more accurate processing
❌ CONS ❌
❌ Can bring out unwanted harshness to the vocals
8. Native Instruments Raum
Overview
Raum is a reverb plugin compatible with MacOS 10, 11, 12 and 13 and with Windows 10 and 11. It comes in VST, VST3, AU and AAX formats.
Native Instruments Raum is a reverb plugin with 3 modes: Airy, Grounded and Cosmic. Each with its own specific tone and dimension.
Thanks to the unique parameters available in the interface, this is an ideal reverb for more creative purposes.
Need a professional sound engineer specializing in pop and hip-hop mixing ? Great! Take a look at our services and let's blow up your career together!
Let's start now!
Review
If you want to add a little more creativity to your mixes as a rule, Raum is absolutely a reverb to have on hand. It's a tool unlike any of its competitors.
Above all, Raum is a super-versatile reverb, capable of adding any kind of space, universe and atmosphere to your mixes. By traveling through the 3 modes and fiddling with the parameters offered by the plugin, you can sometimes achieve… completely unexpected results!
From the super-airy tones of Airy mode to the more organic reflections of Grounded mode, Raum has presets that push the user's creativity to the limit.
Use in vocal mixing
In vocal mixing, there's no better way to use Raum than to experiment as much as possible. That's how you'll get results that might just take your vocals into a whole new dimension. I do have 2 presets to recommend, though:
The first is… the default preset! It's a very airy, dense hall preset that can add a lot of texture to the background of your mixes. It works very well in many vocal mixing situations, whatever the genre.
The second is a preset called "Valentine Backwards". THE ideal preset for giving your vocals an atmospheric edge. With its very long pre-delay and remarkable lightness, it's a great preset for filling in gaps or simply amplifying the end of sentences. Give it a try!
Pros & Cons
✅ PROS ✅
✅ Creative and versatile reverb
✅ Uncommon parameters
✅ Amazing presets for more efficiency
✅ Inspiring interface
✅ Low CPU usage
❌ CONS ❌
❌ Not an ideal tool for more classic effects
❌ Lack of accuracy in the frequency processing
9. Antares Autotune Access
Overview
Auto-Tune Access is compatible with MacOS 11 and higher and with Windows 10 and 11. It is supplied in VST3, AU and AAX formats.
Auto-Tune Access is Antares' entry-level auto-tune plugin. This extremely simplistic plugin uses the same technology as its big brother Auto-Tune Pro, but with much less flexible parameters.
Indeed, the only modifiable parameters of the auto-tune plugin are the key, the scale, the retune speed notched in 3 increments and the humanizer, also notched in 3 increments.
The aim of Auto-Tune Access is to enable users to enjoy the quality of Antares tuning without spending hundreds of dollars on a single plugin. And it works!
Review and use in vocal mixing
Despite the lack of precision in Auto-Tune Access parameters, the tuning quality that emerges is impressive. No artifacts, no alteration of the frequency spectrum and impressive audio quality.
If you need quality tuning on vocals but don't yet have the budget to invest in pro plugins, Auto-Tune Access is for you.
Honestly, you won't be disappointed, as this plugin can act as both a "robotic" auto-tune and a more natural, subtle tuner. It's far more versatile than you might think.
It's also a good option if you're looking for an easy-to-use and effective auto-tune. In the recording phase, for example. This plugin takes up very little CPU.
Pros & Cons
✅ PROS ✅
✅ Very easy to use and instinctive
✅ Great audio quality
❌ CONS ❌
❌ Limited in terms of parameters
10. Valhalla FreqEcho (free)
Overview
The Valhalla FreqEcho is compatible with MacOS 10.8 or higher and with Windows 7, 8 and 10. It comes in VST2.4, VST3, AAX and AU formats.
The FreqEcho is a tool designed for psychedelic and experimental purposes. It's a very special plugin that acts as a frequency shifter and analog echo emulator.
Review and use in vocal mixing
This unique plugin from Valhalla (same manufacturer as the great VintageVerb) is certainly the tool on this list that opens the most doors to creativity and experimentation.
FreqEcho, which may seem very simplistic, is in fact a plugin that allows the user to do very complex things in terms of effects.
Thanks to the white "shift" knob in the middle of the plug-in, you can play with the frequency shifting of the initial delay and often achieve… astonishing results.
In vocal mixing, FreqEcho is the ideal tool for creating a psychedelic atmosphere around the voice. On calmer bridges, more ethereal parts or even short breaks.
FreqEcho has no presets, so users are encouraged to play with the knobs and experiment with their effect to get the desired sound. A real children's toy, but for music production!
Pros & Cons
✅ PROS ✅
✅ An ideal tool for more experimentation
✅ Very simplistic and intuitive interface
✅ Low CPU usage
❌ CONS ❌
❌ No presets
❌ Very (overly) random audio results
How to choose the right audio plugins?
Choosing the right audio plugins requires attention to 3 criteria: skills, needs and budget, in order of importance. Having the skills to use a plugin is essential, but it's also important to use plugins that are necessary to your workflow, and then to pay attention to the budget to be allocated to plugins.
Never buy plugins because they're cool and stylish. The people who listen to your music when it's finished will never know what plugins you used to produce it.
So you absolutely must use plugins that you need and know how to use properly and smoothly. Because this will boost your workflow and your efficiency.
It's always better to buy affordable plugins that you use well, rather than expensive "pro" plugins that you don't know how to use properly.
That's exactly why these plugins can potentially be a very good option for your future mixing and production. Because there's a good chance that many of them will suit your workflow and the way you work with vocal mixing.
Think about it for the future!
Conclusion
It's important to be aware that there are affordable, high-quality plugins on the market today. When it comes to plug-ins, the big-name manufacturers such as Waves, Slate Digital and UAD often make us think that audio quality can only be achieved with high-end, expensive stuff. This is completely false.
Affordable plug-ins such as those presented in this list are sometimes better than expensive ones, because they are better used, more adapted to the workflow of the average user.
When you're looking for new plugins, don't think "price", think need and adaptability to your way of working. That's the best way to make choices that will pay off in the quality of your vocal mixes.
If you have any questions about these plugins or about anything in the field of vocal mixing, please contact me, I'm always very happy to help!
Related Articles:
---
My favorite tools for mixing pop and hip-hop music:
Plugins
In the field of auto-tune, I'm convinced that nothing's better and more efficient than Antares Auto-Tune Pro. As for the EQ's, FabFilter Pro-Q3 and Slate Digital Infinity EQ are, in my opinion, the best tools. For compression, I have 2 favorites plugins: Waves RComp and UAD EL8 Distressor.
As for reverb, I'm a big fan of the Soundtoys Little Plate, but generally, I go for the Valhalla VintageVerb for its versatility. I also love the Arturia Rev PLATE-140 and the UAD Pure Plate for its organic side.
Headphones
The closed headphones I love and will always love using for mixing pop and hip-hop music are the Beyerdynamic DT-770. As for the best open-back headphones, I use the Sennheiser HD600 headphones, and I'm really happy of them!
Monitors
Having a pair of Yamaha HS7 in its studio or home studio is always cool for more excitement while listening to your mixes. The Adam Audio T7V monitors are also super accurate. In my studio, I also have a pair of Genelec 8030 for their reliability.
Hardware gear
For anyone who wants to start using hardware in their mixes, I always recommend these 2 units from Klark Teknik: the EQP-KT and the 76-KT. Don't forget to use good converters, such as the Apollo interfaces. This is essential for a good rendering.