Nowadays, having an auto-tune plugin in its DAW is essential for a quality mix result, especially in hip-hop, pop and RnB music. But some of them are very expensive. This is the case with Antares' popular Auto-Tune Pro, which currently sells for $399. Not very affordable! That's why, in this article, I'm going to tell you about 9 alternative plugins to Auto-Tune Pro, for any budget.
Why Auto-Tune Pro is so unique
Since its beginnings in 1997, the Antares brand has never disappointed its users and has established itself for more than 20 years as the master in the field of auto-tune. Its most popular product: Auto-Tune Pro. Probably the most used auto-tune plugin in the professional world.
But what makes this plugin a unique and high quality tool? Why is it considered the #1 in its field for so many years? A few things can help us answer this question.
First, and there's no doubt about it, the sound quality of this plugin is incredibly good! Whether you are looking for a robotic or a very natural tuning, Auto-Tune Pro will provide you with the desired rendering without any artifact or notifiable flaw. On top of that, the Antares plugin has a certain sound color that no other plugin can imitate.
And secondly, unlike other auto-tune plugins, Auto-Tune Pro really allows you to work on the smallest details using all the advanced features the tool offers. You'll be able to play on the human aspect of the vocals, on the vibrato, on the color, on the transitions of notes with more precise parameters than ever.
All these things make Auto-Tune Pro a high quality plugin used by all music professionals around the world, but does that mean that all other plugins are of lower quality? Well… not necessarily!
In the 9 plugins I'm going to present you in this article, all of them have something unique to bring to their users that makes them compete with the great Auto-Tune Pro.
Let's see which plugins they are.
---
The top 9 alternative plugins to Antares Auto-Tune Pro are:
Each plugin in this list has strengths and advantages that Auto-Tune does not have. This mainly includes price, ease of use, intuitiveness, CPU usage and, for some, audio quality, which sometimes competes with Auto-Tune Pro.
This list is supposed to be 100% objective to allow you to use the right tools for your needs.
This is a plugin released by Slate Digital in early 2022. It is announced by its manufacturer as the best and most complete auto-tune plugin on the market.
Through its more than modern interface, you will be able to tune your vocals with great ease and precision. Slate Digital's plugin is extremely intuitive and easy to use and its sound result is quite exceptional.
The result you will get with this plugin is quite close to the color of Auto-Tune Pro, although the set of parameters is very different from its competitor.
Besides its great sound quality, this tool also offers some really unique features like an ultra instinctive doubler, a negative retune speed (-3ms), quality presets, the possibility to make tuning groups,… In short, features that you will only find here, in MetaTune.
In a few days, this plugin convinced me and is now clearly in my first choices when it comes to auto-tune.
This tool has the advantage of being included in Slate Digital's All Access Pass, available for only 149$/year. If you're not a fan of the subscription system in general, you can also get this plugin individually, for $149. In both cases, the value for money is great.
ℹ️ I did a full review of this plugin when it was released, you can find it here: MetaTune | Why This Plugin Might Become a New Industry Standard
✅ PROS ✅
✅ High quality sound result
✅ Advanced features (doubler, negative retune speed, groups,…)
✅ Modern interface
✅ Easy to use and instinctive
❌ CONS ❌
❌ Latency issues with note stabilizer
❌ No vibrato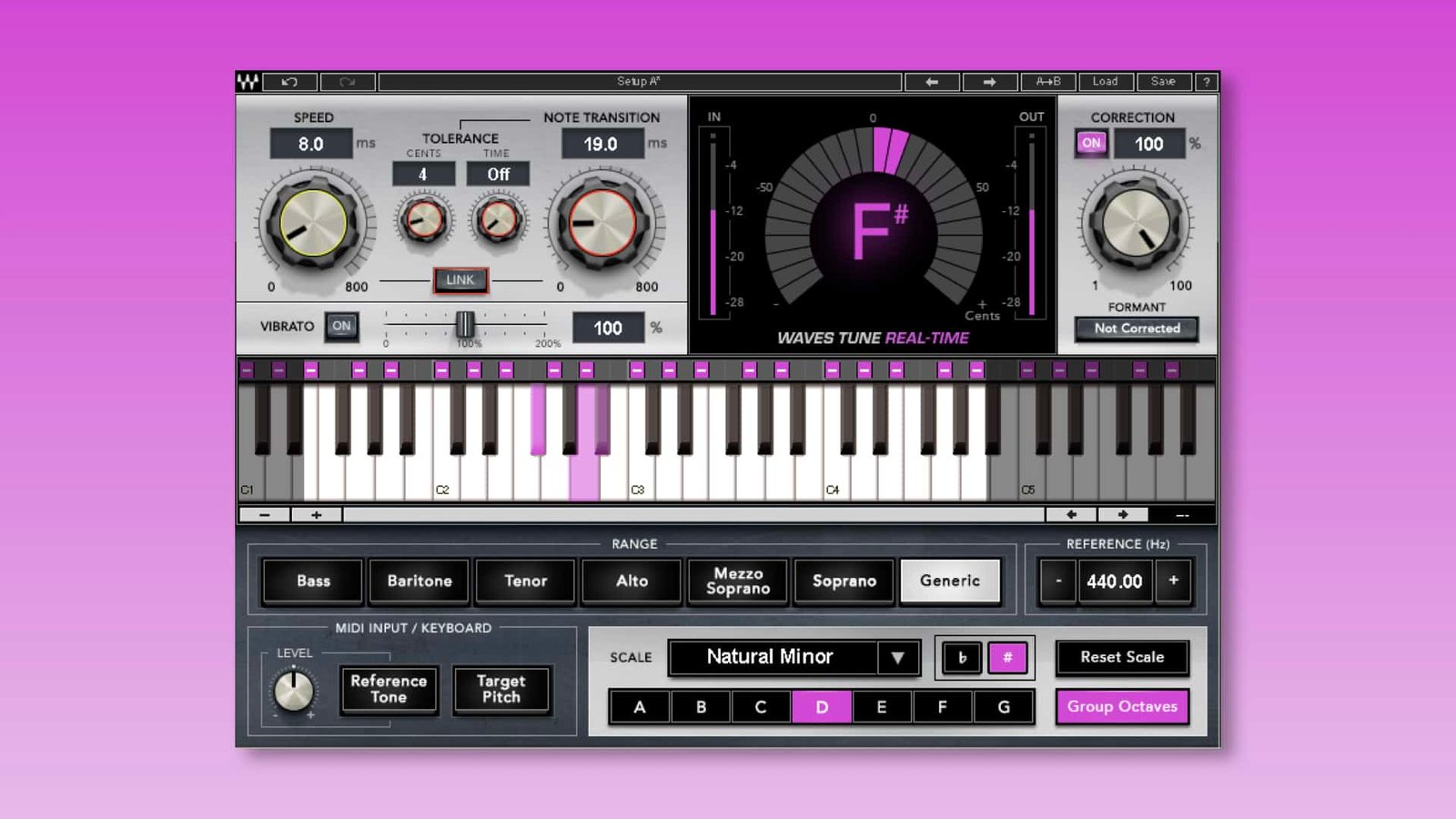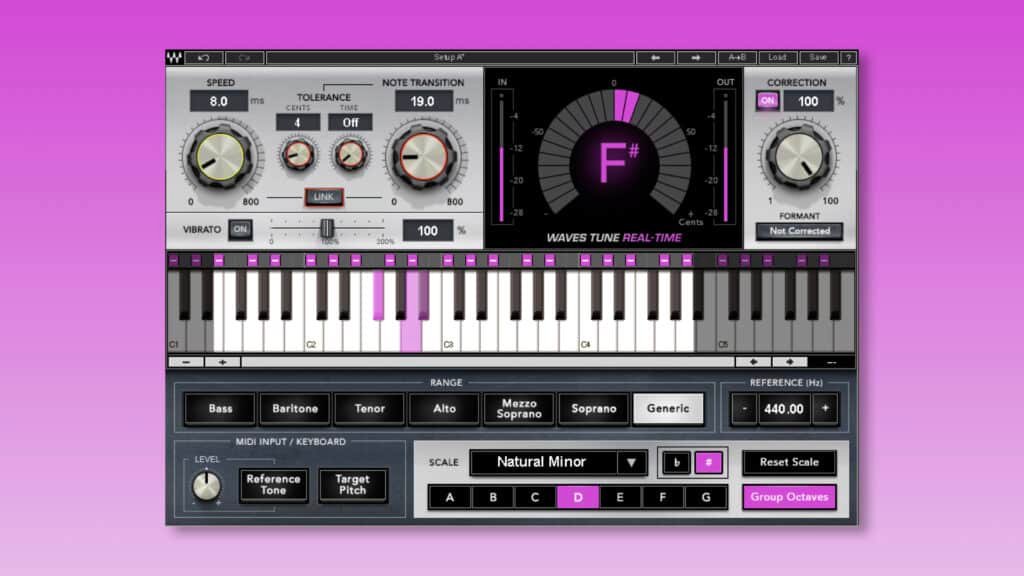 Many people think that Waves Tun e Real-Time is not a good plugin simply by relying on the more than affordable price of $48. But let's not forget that this price range simply represents Waves' marketing policy. Rare are the plugins that cost more than 50$!
For this price, Waves Tune Real-Time represents in my opinion a luxury alternative to Auto-Tune Pro. I used it for years when I didn't necessarily have a lot of money to put into plugins and, honestly, when I switched to Antares, the difference didn't really hit.
Waves Tune Real-Time is nothing crazy based on the number of features it offers. 3 main knobs, 2 secondary ones, it's far from what the advanced version of Auto-Tune Pro can offer, but honestly, the Waves tool does the job, and it does it well.
As far as the sound result is concerned, we move away slightly from the Antares and Slate color to something more natural and less obvious, even with the parameters at maximum.
Easy to use, intuitive, not expensive, qualitative,… Waves Tune Real-Time has everything to please anyone who wants to start using quality auto-tune without spending hundreds of dollars on plugins. And even in the pro world, this plugin is used every day.
In addition to all these positive points, if you don't know much about auto-tuning, you can also take advantage of the Waves presets which, frankly, never disappoint, whatever the plugin.
And last but not least, Waves Tune Real-Time consumes very little CPU, a big plus for people who do not have war machines as computers!
ℹ️ Do you want to start using Waves Tune in your projects? You work in rap music? This article is made for you: How To Use Waves Tune Real-Time On Rap Vocals
✅ PROS ✅
✅ Super affordable
✅ Great presets
✅ Low CPU usage
✅ Instinctive
✅ Good sound quality
❌ CONS ❌
❌ Lack of advanced features
❌ Lack of accuracy (sometimes!)
Auto-Tune Realtime Advanced is an emulation of the Auto-Tune Pro plugin created by Universal Audio (UAD). And among all the emulations of plugins or hardware tools that UAD offers, this one does not disappoint, the audio quality is there!
The plugin is exactly the same as Auto-Tune Pro. The only difference is that it does not have a "Graph" mode to manually process the pitch of the incoming source. It also doesn't have a Throat mode to add a creative aspect to the correction.
On a purely audio level, it would seem that this emulation is less precise in terms of detection quality, and that it lets certain flaws through that Auto-Tune Pro does not.
The UAD version is also more natural and less robotic than the Antares version. It will perhaps be less efficient to obtain the "T-Pain" auto-tune effect but more efficient to keep the color of the vocals intact.
What can become a brake for many (and it is the case for many UAD plugins), is its price: 299$. Moreover, you have to be sure to have an external UAD DSP (Apollo or Satellite) to run the plugin properly.
⚠️ For Mac users: This UAD plugin seems to work very badly on Mac, especially with the new Apple M1 chip. It is likely to slow down the computer, or even freeze it.
✅ PROS ✅
✅ Good audio quality
✅ Quite intuitive
❌ CONS ❌
❌ Works badly on Mac
❌ Not CPU friendly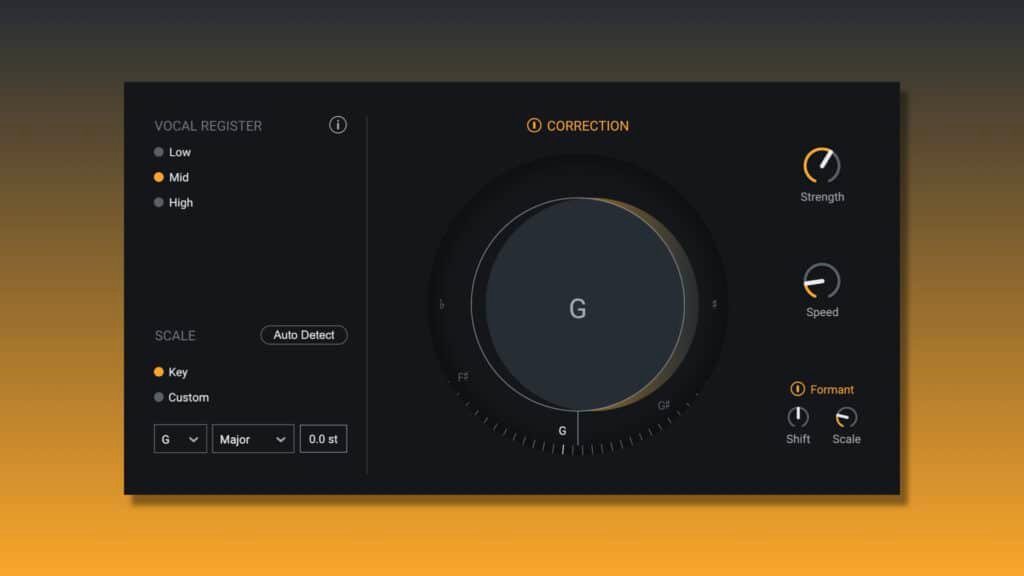 iZotope is that kind of manufacturer that seems to be very good at everything it does. Compressors, reverbs, EQs, distortion, limiters,… They literally have plugins in every subfield of audio.
And, to be honest with you, I recently discovered that in the Nectar plugin there is an auto-tune… which works super well!
Well, honestly, I wouldn't put it at the level of Auto-Tune Pro or MetaTune, but despite its few flaws (which we'll come to very soon), the sound result of Nectar's pitch corrector is of very good quality and remains a tool that can be used in the professional field.
This Nectar auto-tune has some advantages. For example the fact that it is only one slot among several in a plugin, which means that it consumes little CPU, or that it has a very sober interface and is therefore easy to use. This auto-tune will also allow you to play with the formant of the source and create very creative results with an audio quality that will (normally) remain intact.
But it also has some flaws. The main one being the few adjustable parameters within the plugin or the few artifacts that escape when the retune speed is high.
But, overall, it's a very good pitch correction tool!
✅ PROS ✅
✅ High audio quality
✅ Sober and instinctive interface
✅ CPU-friendly
❌ CONS ❌
❌ Lack of advanced parameters
Antares is a smart company, they know that not all their leads can afford Auto-Tune Pro easily. So they created a "Lite" version: Auto-Tune Access.
This plugin is a basic version of Auto-Tune Pro that will allow you to enjoy the same sound quality but with less parameters and precision. If you want to learn the tool without spending too much money, it's really the ideal plugin!
In terms of ease of use, it's also top notch! Indeed, you will only have 2 knobs to use to get the desired result: The retune speed and the Humanize "quantity". As simple as that. Unfortunately, these two parameters are very adjustable (3 levels for each) which makes this plugin a rather imprecise tool for pitch correction.
On the flip side, compared to its big brother Auto-Tune Pro, this one will consume very little CPU during its use.
✅ PROS ✅
✅ SUPER easy to use
✅ Good audio quality
✅ CPU friendly
❌ CONS ❌
❌ Big lack of precision
❌ Very few adjustable parameters
---
From here on, all plugins listed below can be considered as "lower quality" tools. In the sense that the sound rendering will never be as clean as Auto-Tune Pro. But, for some reasons, like price or creative aspect for example, these plugins could be a luxury alternative to Auto-Tune Pro. Let's take a closer look.
Behind the very sober interface style of Melda plugins, which may lead you to think that they are amateur plugins, there are some very high quality tools, some of which clearly rival the biggest plugins on the market.
This is the case of MAutoPitch, a free plugin that allows you to make pitch correction in real time with great ease. The plugin is well organized and therefore very easy to use.
It is obviously not the most accurate or the most qualitative plugin, but for a plugin that costs nothing, it deserves to be in this top 9.
MAutoPitch's pitch detection is quite good and few errors escape from the correction. But the biggest flaw of this plugin is in the quality of the spectral rendering: it is completely deteriorated. The stronger the correction, the more the top of the spectrum will be destroyed by MAutoPitch.
✅ PROS ✅
✅ FREE!
✅ Good pitch detection
❌ CONS ❌
❌ Artefacts
❌ Degrades the frequency spectrum (high-end range)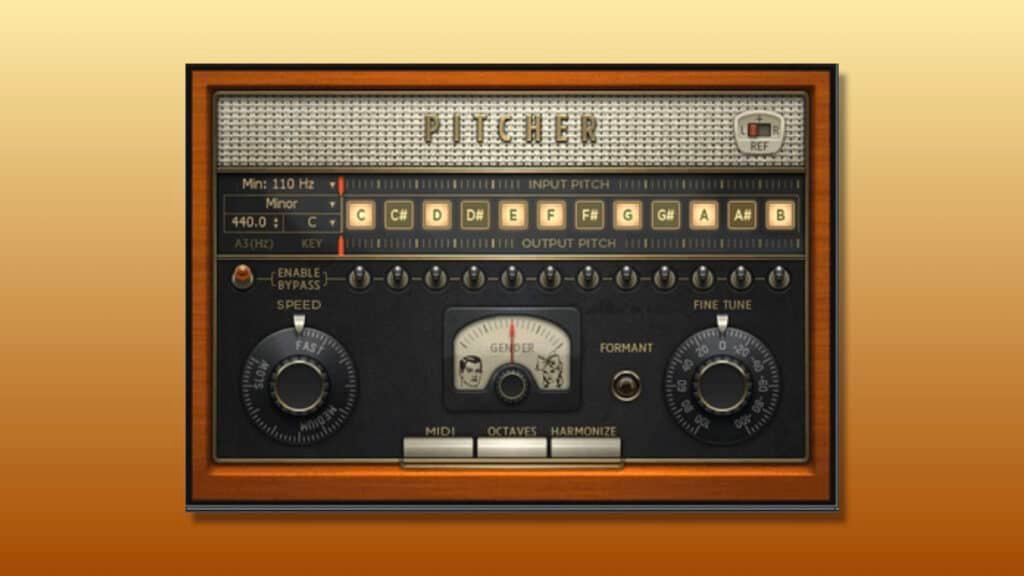 Pitcher is a plugin exclusively available for FL Studio users and is unfortunately not usable on other DAWs on the market. But as it is a DAW that is increasingly used for music production, this tool clearly belongs in this list.
Pitcher's sound rendering is not of high quality. The detection is not perfect, the rendering will sometimes show some artifacts and the frequency spectrum will be slightly damaged by the pitch correction tool. So far, you might ask, why put it in this list?
Pitcher actually scores points for its ease of use and effectiveness in helping the user do something creative with the vocals processed by the plugin. You will be able to create harmonies, change the formant of the vocals and play with the pitch in just a few clicks.
If you have a basic version of FL Studio, you should have it in your plugin library. So we can say that it is a free plugin, since it is only available on this DAW.
✅ PROS ✅
✅ FREE (except from FL Studio Lite users)
✅ Creative tool
❌ CONS ❌
❌ Poor frequency spectrum rendering
❌ Artefacts
❌ Only available on FL Studio
Ovox is not really an auto-tune plugin as such, it is designed to be primarily a vocal synthesizer. But like many plugins available on the audio market, it has many secondary uses, including auto-tune.
I'd rather warn you though, the quality of the audio rendering is not the element that is emphasized in this plugin. The frequency spectrum will be completely deteriorated by the plugin, more than any other plugin on this list. But it will be able to provide you with a very atypical rendering.
First of all, this tool emphasizes the robotic aspect more than ever. It's really pushed to the extreme and that's the reason why the signal is quite heavily damaged.
But above all, with this plugin in your hands, you have everything to create something unique from the processed vocals. Harmonizer, formant, harmonics, time effects,… It's one of the best tools to create an original sound.
I wouldn't advise you to buy this plugin if you are looking for a tool exclusively designed for auto-tune, but if you are looking for something that will boost your creativity in vocal mixing or vocal production, this is a great tool.
✅ PROS ✅
✅ Super creative tool
❌ CONS ❌
❌ Very poor audio quality
❌ Lots of artefacts
❌ CPU-heavy
Like the previous plugin (Ovox), Little Alterboy is not designed to do real-time pitch correction (it is a pitch and formant shifter), but it can easily be used as such.
To use it as an auto-tune, you just have to choose the Quantize mode. With this mode, each note will be corrected to the nearest exact note, with a relatively good audio quality compared to the last plugins in this list.
The only problem is that you have no control over which scale the Little AlterBoy should target, which means that it can sometimes lead to unwanted notes. So it is not a very precise tool in the rendering.
But this plugin has the advantage, even if it is not the main goal, to let the user play with the pitch and the formant with great ease. So it is also a super creative tool.
If what you are looking for is a purely robotic rendering, Little AlterBoy could be a very good compromise.
For the best tuning results it is essential to tune the vocals manually beforehand. Because the risk of tuning errors is quite high.
ℹ️ When it comes to vocal mixing, Little AlterBoy can be a very powerful and creative tool. I tell you more right here: Little AlterBoy : The Most Creative Tool For Vocal Mixing
✅ PROS ✅
✅ Creative tool
✅ Very easy to use
❌ CONS ❌
❌ Inaccurate correction
❌ Medium audio quality
❌ Lack of parameters
Conclusion
The plugins that come closest to Auto-Tune Pro in terms of audio quality, settings and rendering are MetaTune, Waves Tune Real-Time and Auto-Tune Realtime Advanced. These are the 3 plugins with which there is a real competition. This does not mean that the other 6 are not as good, but that they are slightly different from what users are generally looking for in Auto-Tune Pro.
It's up to you to take into account each essential element of an auto-tune which are:
Detection quality
Quality of the sound rendering
Price
Ease of use
Number of parameters (and their quality)
Modulability
If you have any questions about these plugins or about anything in the music mixing field, please contact me, I'm always very happy to help!
Related Articles:
---
My favorite tools for mixing pop and hip-hop music:
Plugins
In the field of auto-tune, I'm convinced that nothing's better and more efficient than Antares Auto-Tune Pro. As for the EQ's, FabFilter Pro-Q3 and Slate Digital Infinity EQ are, in my opinion, the best tools. For compression, I have 2 favorites plugins: Waves RComp and UAD EL8 Distressor.
As for reverb, I'm a big fan of the Soundtoys Little Plate, but generally, I go for the Valhalla VintageVerb for its versatility. I also love the Arturia Rev PLATE-140 and the UAD Pure Plate for its organic side.
Headphones
The closed headphones I love and will always love using for mixing pop and hip-hop music are the Beyerdynamic DT-770. As for the best open-back headphones, I use the Sennheiser HD600 headphones, and I'm really happy of them!
Monitors
Having a pair of Yamaha HS7 in its studio or home studio is always cool for more excitement while listening to your mixes. The Adam Audio T7V monitors are also super accurate. In my studio, I also have a pair of Genelec 8030 for their reliability.
Hardware gear
For anyone who wants to start using hardware in their mixes, I always recommend these 2 units from Klark Teknik: the EQP-KT and the 76-KT. Don't forget to use good converters, such as the Apollo interfaces. This is essential for a good rendering.